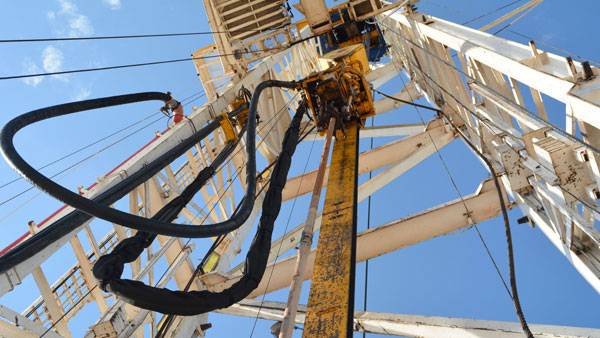 40+ Wells Since Installation / we help the operator be more productive and profitable
With its new US patent in hand, AmerCable CSWL arranged a field trial of its new AmerLinkTM jacketed top drive service loops on a directional drilling rig in Northwest Oklahoma. Previously, third-party test results showed the loops surviving 400,000 cycles without a failure, which is almost the equivalent of 10 years on the average drilling rig. As we know, controlled test environments are not the same as the loops being installed on a working rig where rig-up, drilling and hole completion, then rig-down operations challenge the manhood of a service loop.
Utilising a TDS-11 top drive, a standard loop package (power, 42-pin ) was installed in the searing Oklahoma heat (38°C+). This area of the Southwestern United States presents a challenging range of temperature and weather conditions.
As of Oct 19, 2017, 27 months and 40+ wells later, the same AmerLink package is still performing on the same rig now operating in the Texas panhandle. In today's drilling climate where cost-savings and greater productivity are required to stay in business, a service loop package that far exceeds the normal expected service life of a hose-encased loop helps the operator be more productive and profitable.
---
AmerLink CSWL for the Next Generation of Top Drives & Top Drive Upgrades
For drilling conditions requiring greater power and torque, the next generation of top drives is delivering unprecedented capabilities to take on the toughest formations. But added drive power requires additional electrical power – in most cases a second power loop.
AmerCable CSWL is currently working with one of the leading portable rig manufacturers in the United States to make sure their top drives operate at peak efficiency. AmerLink presents a smaller overall diameter and lighter weight than hose-encased potted loops, plus it's much more flexible. By taking up less overall room in the mast, AmerLink packages are less likely to snag or get hung-up than larger circumference traditional loop packages. AmerLink also meets the 2017 API RP14F Revision.
AmerCable CSWL Systems also offers engineering design assistance for the custom loop brackets required for top drive upgrades requiring special loop packages.
---
1 - 2
---