Top Drive Service Loops - Technical Support - Short Lead Times
The Cable Solutions / Nexans AmerCable partnership delivers short lead times, reliable on-time delivery, outstanding engineering, technical support, and great customer service. All Service Loops are engineered and manufactured at Nexans AmerCable's state-of-the-art production facilities.
Main Distributor - UK - Europe - Scandinavia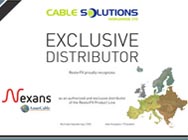 In partnership with Nexans AmerCable, Cable Solutions Worldwide supply OEM quality Top Drive Service Loops to global oil & gas operators. Cable Solutions Worldwide are the main distributor in the UK, Europe and Scandinavia for AmerCable Top Drive Service Loops.
Cable Solutions - Outstanding engineering and technical support
Graham Ross - Cable Solutions Business Development Manager commented ... "It has to be said, we are very proud that our top drive service loops are in operation on hundreds of offshore and onshore rig assets around the world."